Stinger Stacker 6500


The Stinger Stacker 6500 starts with a Crane Carrier chassis built specifically for Stinger. The powertrain includes a Cummins 9 Liter 320 HP high-efficiency intercooled turbo-diesel engine providing 1250-lbs of torque. The chassis frame is built of high tensile steel. Our Stinger LE Hayloader designed cab is added including Industry leading features like our Sears construction designed seat, Cruise Control, 3M UV ray blocking window tint and many other features to make those long days go by smoothly.
Why Stingers are in a class of their own.


20 year proven off-road military grade chassis. Perfectly balanced chassis when fully loaded.
The model 6500 is an implement of Husbandry but can maintain most highway speeds and has cruise control.
Every Chassis drive train component is OEM certified tested.
Nationwide factory support for technical information and parts availability including a fully stocked spare parts kit with each new unit.
A network of farmers successfully operating nearly 800 units in North America.
High quality supply-chain and technical support resources throughout the western United States.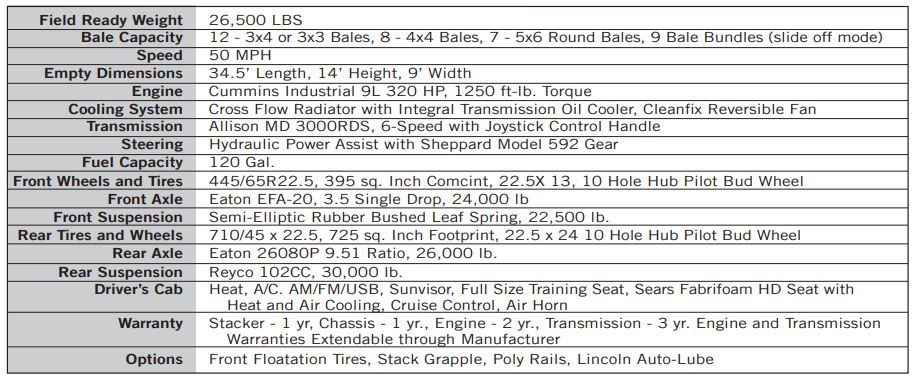 The Stinger Stacker will handle 8 bales at a time with 4x4's and up to 12 bales at a time when handling 3x3 or 3x4 bales. Bales can be stacked on edge, on the twines, or a combination of the two. All Stinger models load with a tilting action that allows non-stop pickup at 5 to 7 miles per hour. This tilting action will not scuff the ground, pile sand, or push out alfalfa like competitive machines. The Stinger Stacker 6500 is mounted on a specially designed LE Hay Loader Chassis from CCC which includes the following standard features:
Center-mounted High Visibility one man cab Mid-Engine QSL 9L Cummins rated at 320HP 6-spd Allison Automatic Electronic Transmission Flotation Tires Front and Rear Heavy Duty construction Air Ride Seat Joystick Controls for One Hand Operation Computer Controlled Hydraulics Tire Pressure Monitor, cleanfix reversing fan, LED light package and Many other extras for increased productivity and comfort